North Cyprus is a rapidly growing market in real estate investments standing out with excellent weather all year round, the most beautiful unspoiled sandy beaches, delicious cuisine, unique nature, and cultural heritage. Affordable prices, fast return on investment, quality of education within international educational standards, high level of safety, and security make North Cyprus an attractive destination for foreign investors.
It is highly safe to purchase a property in North Cyprus and it is important to note that the current procedures in place serve to protect and benefit customers.
Properties in the TRNC fall into different categories of title deeds. It is imperative for you as a purchaser to get familiarized with the conditions while the decision-making process.
SELECTION OF PROPERTY
The processes involved in the purchasing of a property in North Cyprus depending on which type of property you decide to buy.
Our initial communication starts with either a phone call or email, which will be followed by an inspection trip invitation (for more details please see section Inspection Trip) of "Afik Group".
Besides, our company constantly attends International Property Shows which gives a great opportunity to meet personally representatives of "Afik Group".
While selecting the property and planning the budget please consider additional costs.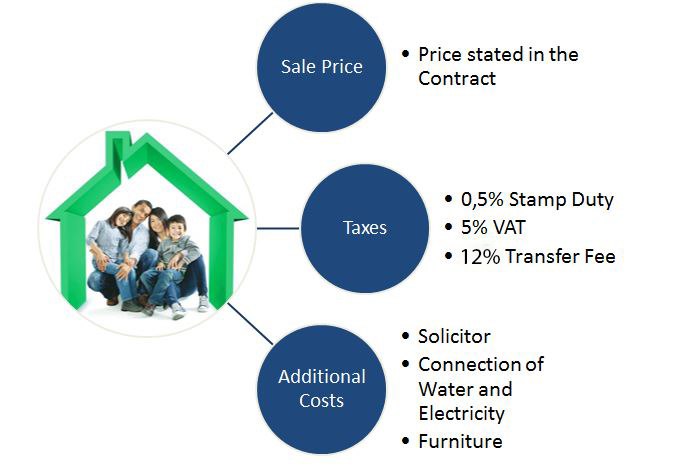 RESERVATION OF PROPERTY
Prior to signing the contract, you will need to reserve the selected unit and pay the deposit that equals 1500 GBP (non-refundable). You can do it either through bank transfer, pay by a card, or pay by the cash in the office.
SIGNING THE CONTRACT AND DOWN PAYMENT
After paying the deposit, the purchaser is signing the Agreement of sale and making an agreed first down payment (30% of the Sale Price).
The validity of the title deed is checked and confirmed by a solicitor, who then draws up contracts setting out the terms of sale.
The Stamp Duty is due to be paid within 21 days after signing the Contract.
Having been given Power of Attorney, the solicitor then attends to the completion in the purchaser's absence, including the application for the purchase permit from the Council of Ministers.
REQUIRED DOCUMENTS:
Copy of the Contract
Passport Copy
Application Form
Questionnaire
Certificate of clean criminal record
VAT is paid in 1 year after the key handover as well as the fee for the connection of water and electricity.
3-6% Transfer Fee is paid after the sale price is fully paid and the complex is completed.
In North Cyprus, there is one annual tax – 1.25 TL (0.2 euro) per gross area sqm.
We will be happy to provide you with more information upon your request.